So after working on Sunny for the weekend I didn't get much done. Here is my International Hermit and Stitch weekend progress picture. I tried to be a hermit, but it was hard, I had my sons birthday party this week end. Although, I am happy with what I have done so far.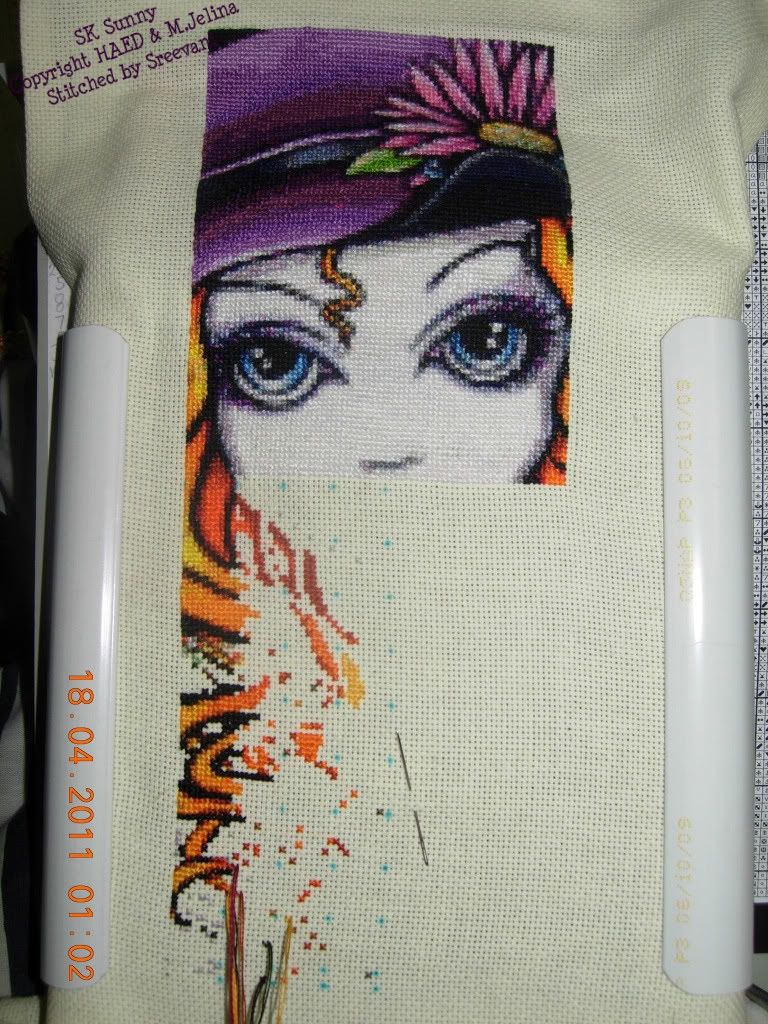 So I have been playing to find a stitching style that will work better for me. I've been having trouble with my stitching being too dense in heavy confetti areas. In the past I have tried to park. For me parking is fine for large block sections, the stitches lay very neatly, but as soon as I got to some confetti spots, I would start to get confused, and my hanging threads started to look ragged, and I hated having all those threads hanging. But I thought I would give it another shot. Previously I had tried parking but, all the way across the page. This time I tried it just down a column. Just seeing those threads hanging drove me, so after awhile I started picking up those threads and stitched those colors three columns across. Once I've gotten rid of those hanging threads, I'm wondering if I should give parking one more shot and this time trying a ten square block at a time. I don't know. I will give it one more shot, and then I'll see if once and for all if Parking is for me or not. I have been trying to adjust my tension as well, hoping that will help with the confetti heavy areas as well. Anyways...
Until the next stitch...
~~~Vani~~~